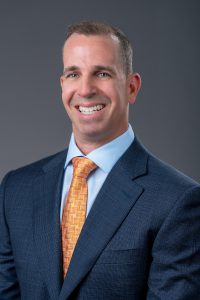 FOR IMMEDIATE RELEASE
KSDT CPA Grows Healthcare Advisory Services Practice, Names Kevin N. Fine Director
MIAMI, Feb. 5, 2020 – South Florida accounting and tax advisory firm Kabat, Schertzer, De La Torre, Taraboulos & Company (KSDT CPA) today announced that Kevin N. Fine, MHA, has joined the firm as director of its Healthcare Advisory Services practice. Working out of KSDT CPA's Miami office, he will be responsible for expanding the firm's delivery of accounting, audit and business advisory services to hospitals, physician groups and other healthcare providers.
Fine brings to this role more than 20 years of experience helping hospitals and health systems, private equity firms, physician practices, management service organizations (MSOs), accountable care organizations (ACOs), and other healthcare providers to improve operational efficiency, cost containment, revenue-cycle management and technology solutions while maintaining high levels of patient care.
He was previously director of healthcare advisory services with one of South Florida's largest accounting firms. Before that, he was the director of healthcare deals for one of the nation's big-four CPA firms. Fine holds a master's degree in Health Administration from St. Thomas University in Miami and a bachelor's degree from the University of South Florida in Tampa, Fla.
"We are excited to welcome Kevin to our firm and grow our emerging healthcare advisory practice," said Jeffrey Taraboulos, KSDT's managing partner. "South Florida's healthcare providers are facing a sea of change marked by lower reimbursements, higher operating costs and more rigorous compliance burdens that require them to rethink their existing plans and implement new strategies to help them remain competitive and efficient."
About KSDT CPA
Kabat, Schertzer, De La Torre, Taraboulos & Company (KSDT CPA) is one of South Florida's largest and fastest-growing accounting and advisory firms, providing a full range of tax and estate planning services, audits and reviews, forensic accounting, litigation support and businesses valuation services to a broad range of individuals and business clients.
Founded in 1976, the firm has also been recognized as a Top Recommended Tax and Accounting Firm by Forbes and a Gulf Region Leader by Accounting Today. With offices in Miami and Weston, Fla., KSDT CPA also offers wealth and property management services through its subsidiaries KSDT Financial and KSDT Property Management.  For more information, visit www.ksdtcpa.com or call (305) 670-3370.
Media Contact:
Jodi Knurr
305-778-6062
jodi@jpkpr.com
How Can We Help?
Call or email our team today
KSDT CPA is ready to navigate the process with you. Fill out the form below and our team will contact you shortly.
Related Posts